Easily access your creation tools in one click, and establish up to six presets that suit your workflow. Your go-to brushes will always be on hand so when you jump into a studio you can start expressing your ideas immediately, without digging through layers of tool panels and drop-downs.
Access
When the Sketch tool is selected the purple button now opens the brushes menu.
It contains four categories, each of which contains six customisable and nameable brush pre-sets which persist across sketch and app sessions. All geometry types have the same customization options as in previous versions.
Tools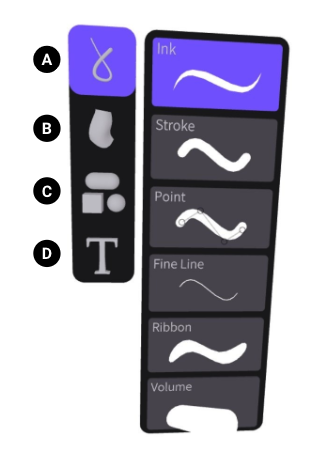 A. Draw: ink, stroke and volume tool
B. Surface: surfacing tools and revolve tool
C. Shapes: you can choose among 11 different 3D shapes
D. Text: use the Keyboard to create 3D text in space. You can move it around, change its color and edit it.
Settings are preserved across sessions allowing you to build your tools library specific to your workflow.
Change the name of the brush
Point the drawing controller to the name and pull the index trigger. Type in the new name and select the blue check mark.
Reset settings
1. To reset brushes select the blue button on your non-drawing hand
2. Go to Settings
3. Select Preferences
4. Select the Reset Brushes button