Introduction
Set the camera using the Viewpoints tool and toggle between them to view the sketch from different perspectives.
Access and Use
When in a sketch or a room, select and hold the black button on your drawing hand controller
Hover the controller to the right to Viewpoints and release the button to select it
Move-in space and pull the front trigger on your drawing hand controller to set Viewpoints
Viewpoints will appear as camera screens in the space which you can resize like any other object
Move between the Viewpoints
There are two ways you can move between Viewpoints
1. By moving the joystick on your drawing hand controller to the left or right
2. Select the Viewpoints Preview thumbnail (C. point below) from the Viewpoints panel
Viewpoints panel
Once the viewpoints are created, they will appear on the Viewpoints panel.
Select the black button on your non-drawing hand controller to open the panel.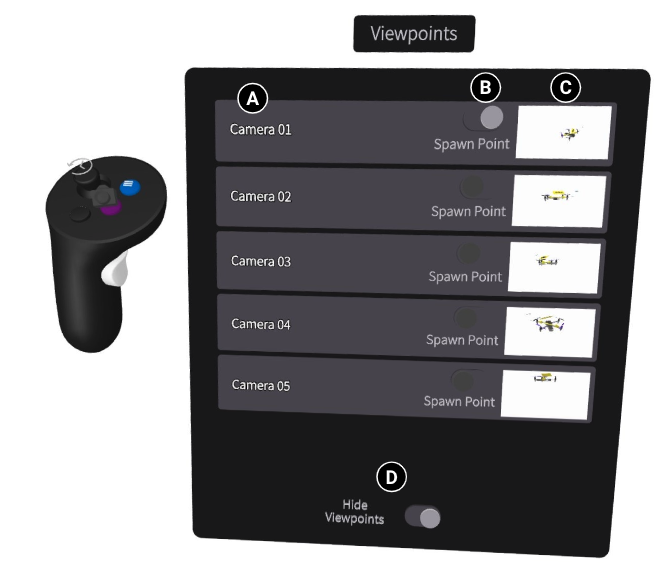 A. Name of the viewpoint: By default, viewpoints will be named as Camera + consecutive numbers (example: Camera 01, in this case, was created first and Camera 05 last).
To rename each viewpoint, select the name (point and press the front trigger on your drawing hand controller), type in the new name and select the blue check mark on the keyboard.
B. Spawn Point: When switched on the spawned viewpoint will be the starting point when entering the sketch or joining a room.
C. Viewpoint's Preview thumbnail: Select the preview image to move to the exact viewpoint from the list
D. Show/Hide Viewpoints: Toggle to show or hide viewpoints in the sketch
Viewer Mode
While working with Viewpoints you can switch to Viewer Mode and access tools like teleportation and laser pointer. Read more about this in the separate article HERE.