Layers can now be viewed in Screen Collab too! You can rename them, hide/unhide, adjust opacity, lock and isolate layers. All the options are described in the content below.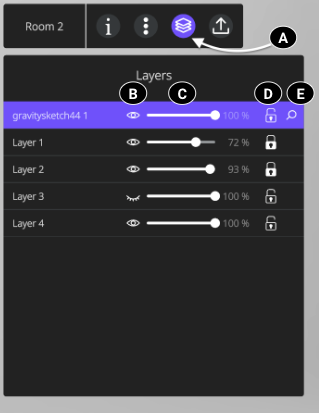 A. Layers: click to open the layers panel
B. Show/Hide: click to show and hide the layer. This is very useful when exporting only part of the room. Simply hide all the layers you don't want to export (only visible layers will be exported!)
C. Opacity slider: slide to adjust the opacity of the layer
D. Lock Layer: click the lock icon to lock/unlock the layer
E. Isolate Layer: click the magnifying glass icon to show the objects on the isolated layer only. Click the X icon to cancel it.